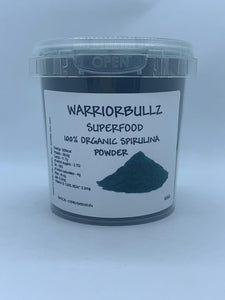 Spirulina is a biomass of cyanobacteria that can be consumed by humans and animals. The three species are Arthrospira platensis, A. fusiformis, and A. maxima.
Cultivated worldwide, Arthrospira is used as a dietary supplement or whole food.[1] It is also used as a feed supplement in the aquaculture, aquarium, and poultry industries.
Most people think spirulina is a type of alga, but it's actually a type of bacteria called cyanobacterium.
What makes spirulina so special? A blue pigment that allows the bacteria to produce their own food through photosynthesis, like a plant.
Spirulina is a nutritional powerhouse that is more than 60 percent protein and packed full of life-giving chlorophyll. It's a dense source of vitamins, minerals, amino and omega-3 fatty acids, enzymes and trace minerals. You can use it for yourself and your pets to assist with a myriad of issues like inflammation, nutritional deficiencies, immune support, bacterial and yeast overgrowth and radiation exposure.
More protein than eggs, more iron than spinach
Studies have shown anti-oxidant properties, reduction in allergy reactions, less tumours than comparative animals not fed spirulina. A rich natural source of vitamins and minerals
Uses

Food supplement
Spirulina is one of the richest plant-based sources of protein (60-70%). With so much research to confirm its health benefits, it is now recommended by the 
UN World Health Org
Suggested Feeding Amounts
Optimally give twice daily:
Dogs and cats < 10 kg, 1/4 to 1/2 teaspoon daily
• Dogs 10-25 kg, 1/2- 1 teaspoons daily
• Dogs > 25 kg, 1-2 teaspoonfuls daily
It is not a medicine so these are only suggestions, does not have to be give everyday.
According to herbalist, Greg Tilford, it's safe to use every day but because it's so nutrient dense, it can cause diarrhea and digestive upset if feeding too much.
According to Tilford, a daily amount of 1/4 teaspoon per pound of food is generally safe,  while cats would require 1/2 teaspoon.
Try giving your dog spirulina as part of his daily supplementation and you might notice a shinier, more lustrous coat, fresher breath and better overall physical condition.