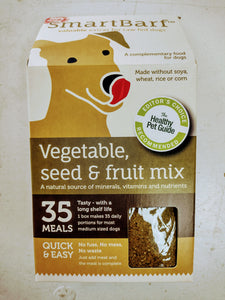 SmartBarf™, the vegetable, seed & fruit mix that is…
100% natural
an amazing source of essential & varied minerals, vitamins and nutrients
suitable for dogs of all ages, including puppies.
and so easy to prepare!
SmartBarf™ is a 100% natural source of minerals, vitamins and nutrients from over 50 different seeds, nuts, fruits, berries, vegetables, pulses and herbs. All the ingredients are carefully selected for maximum nutritional benefit, to create a healthy balanced diet for your dog and your puppy.
SmartBarf™ is already prepared and with a long shelf life, all for your convenience and to save you time and money. Just add water and serve with meat.
How to keep
While SmartBarf can be stirred into a suitable pet mince as a dry mix, it is better to rehydrate it first, by adding hot water and allowing it to cool before stirring it into the mince. Rehydrated SmartBarf can be stored in a fridge for up to 7 days, or frozen.
Nutritional composition
Protein 15.4g, Oils and Fats 15.7g, Ash 5.1g, Moisture 8.3g, Fibre 13.1g
Energy 425kcal per 100g.