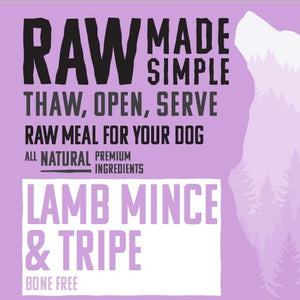 Single protein!  A complementary meal for working dogs.
A tasty meal with coarse minced lamb and lamb tripe.  A great texture for your dog's enjoyment.  The meal comes already mixed together so even the fussiest dogs will love it! 
100% meat, nothing added giving your dog the very best complimentary meal.
Locally sourced from a nearby farm, you can't get any better!
Easy to use, just thaw, open and serve.  Once thawed, open the pack and serve to your dog.
Moisture 67.8%, Oil 13.8%, Ash 1.5%, Protein 13% & Fibre 1.8%