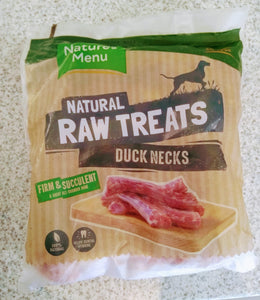 100% natural raw treat that can be fed as a snack.  Duck Necks are packed with soft bone, cartilage and connective tissue that makes for a delicious, crunchy treat. 
Full of natural nutrients to promote health and vitality, duck necks can be fed as a snack or as part of a home prepared raw meal. Considered by our experts as a raw bone for beginners suitable for dogs fed a raw diet over 10 weeks of age.
Chewing is an important part of a raw diet and has many benefits for dogs. Not only is it great for strengthening teeth and overall dental hygiene, dogs find chewing calming and comforting.