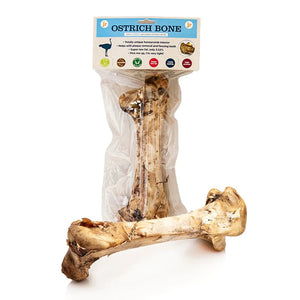 JR's Ostrich Knuckle Bone is naturally healthy, totally irresistible and simply air dried. They have a unique structure that is crunchy and chewy. JR's Ostrich Knuckle Bones are naturally rich in nutrients and extremely low in fat making them the perfect choice.
Signature Ostrich Knuckles are hypoallergenic & naturally healthy:-
No additives or preservatives
Simply air-dried
Long Lasting Chew
Responsibly sourced
Suitable for puppies over 12 weeks
Key advantages of these great honest and guilt-free chews include:-
Natural Dental Chew
Low in fat
High in protein
Hypoallergenic
Rich in vitamins and minerals
Grain & Gluten free
Healthy and nutritious
The Ostrich Knuckle Bone is naturally healthy and an ideal dental chew for your dog. It's one of our newest products, they are totally unique with a crunchy and chewy texture, naturally low in fat, with no additives or preservatives, simply irresistible!