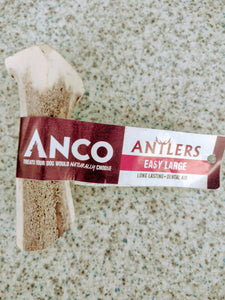 Great for lazy chewers!
The Antos Split Antler A 100% Natural Chew For Dogs Who Prefer A Softer/Easier Alternative To Regular Antlers. Our Antos Antlers Have Simply Been Cleaned (With No Chemicals) And Cut To Various Sizes/Weights For Dogs To Chew On. Sharp Points Have Been Removed To Make Them Safe. Antler Is A Healthy Chew, Full Of Minerals And Calcium.
The Antos Antler Satisfies A Dogs Natural Urge To Chew, Whilst Also Helping To Strengthen And Clean Teeth.
There Is No Odour From Antler, And As Your Dog Grinds Down The Antler Over Time, There Is Also Very Little Mess. Being A Naturally Grown Chew, No Two Antlers Are The Same. Deer Antler Chews Come From A Sustainable, Natural Resource.