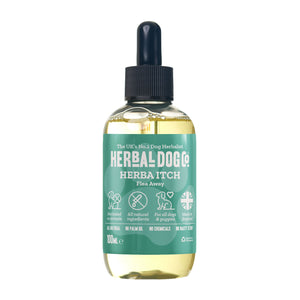 Size ~ 100ml (1-2 year supply)!!
Herbal Dog Co's Natural Spot On is a safe & natural spot on product that is applied weekly to the back of the dog's neck for best results. It is made from ingredients which are natural such as quassia bark, neem leaf & lemongrass essential oil. It is so safe that you can use it with confidence around pregnant & breastfeeding mums.
The powerful blend of natural oils combined with fast acting neem leaf makes the non toxic spot on the ideal go to.
How to use:
Shake well. For regular use drop 1ml onto the back of the neck weekly, if your dog is over 10kg drop 2ml onto the back of the neck weekly.
If you already have visitors & need support to clear an infestation, drop 1ml onto the back of the neck daily for 1 week.
Drop directly onto ticks for quick release.
This product must be used continually for three months prior to flea season for best results. Less effective with dogs with compromised immune systems and older dogs.
Always patch test before use. Discontinue use if skin becomes irritated. Always consult a vet if you think your dog is ill or in pain.
Alternate the skin area this product is applied too, to prevent irritation.
Ingredients:
Aqua, Quassia Bark, White Vinegar, Neem Leaf, Aqueous Tinctures, Oils of Lemon Grass.
• No Palm Oil • No Chemicals • No Nasty Stuff •