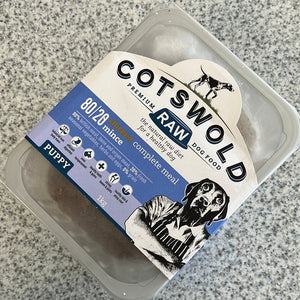 Fine Mince.
This puppy recipe contains the ideal ratio of calcium to phosphorous. Additionally, it contains Diaturm - a natural supplement with organic turmeric and freshwater food-grade diatomaceous earth,  both widely used to promote gut health without the use of toxic chemicals.
 Contains: British chicken with bone, beef heart, beef liver, free range eggs, seasonal vegetables (carrots, cauliflower, cabbage, green beans), milled flaxseed, wheatgerm, kelp, dandelion, alfalfa, spirulina, nettle leaf, diatomaceous earth, turmeric and thyme.
Analytical Constituents
 Protein 15.1%, Fat 8.8%, Ash (inorganic matter) 3.3%, Fibre 0.3%, Moisture 71.1%
Energy content 1650 kcal/kg
Ca: P ratio 1.6
Feeding guide
Being a fresh product once defrosted, keep for 48-72 hours in a refrigerator. This meal should be fed raw. Thoroughly defrost food before serving. 
Always remember good hygiene practices, handle as you would any other raw meat. Wash hands and utensils after handling.